Bulk Screen Printing Houston – Wholesale Custom T-Shirts

Complete your next bulk or wholesale screen printing project with Texas Ink! We are a local Houston Based screen printing facility staffed and equipped to meet the needs of screen printing brokers, marketing agencies, branding advertising agencies and contractors in the industry. We fulfill all large wholesale orders on-site in Houston, Texas. We offer bulk order pricing and discounts that help brokers and businesses stay competitive in today's marketplace. Our contract screen printing clients include many brokers in the Houston area. In addition to screen printing, we also offer full embroidery services for hats, t-shirts, polos, and bags. Contact us now to quote your next bulk screen printing or embroidery order!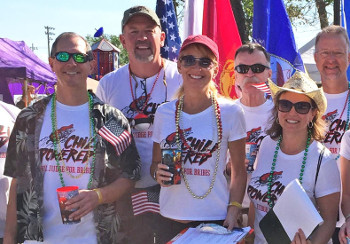 Quick Turnaround Printing Time
We understand the need to turn large orders around quickly. We are setup with 3 presses to print over 5000 shirts a day for our customers. If your client needs a complex simulated process job done quickly or you're organizing a large festival that requires 10,000 shirts, we can make it happen fast. Our experienced staff has a successful history of meeting production deadlines on high volume orders for the wholesale screen printing market. We have the experience and equipment to turnaround bulk orders in record time. Give us a call so we can discuss your next contract screen printing project and due dates.
Preview Our Entire Catalog Online
We have accounts with all the major blank apparel suppliers in the US. Products can be dropped shipped or we can order the product for you. We are more than happy to help you find the right blank for your next project. See one of our online catalogs.
As a large business or when running a large event or brand, it's helpful to have a wide selection of apparel and products to choose from to put your design on. With a larger selection, you have the ability to meet the needs of more of your customers, attendees, or followers.

Use Your Own Design – Or Let Us Design It For You
We have an amazing in-house design team who are experts in creating art for screen print and embroidery market. You can choose to submit your design for print in bulk or you can let us help you create a quality and meaningful design to represent your brand, event, or business. Don't let your lack of design experience stop you from taking advantage of custom t-shirts!
Submit Your Order Today
Get started with your bulk screen printing t-shirt needs! Whether you have a design already, are curious about wholesale custom t-shirts, or need design help, simply reach out to us today!
Tell us about your goals using bulk custom t-shirts or submit your order and we'll get started right away so that we can get your t-shirts as soon as possible. Regardless of how much experience you have with design and creating custom t-shirts, our team at Texas Ink is here to help you through every step of the process.