Screen Printing Houston – Custom T-Shirts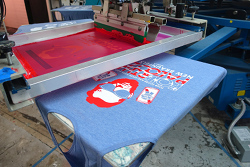 Custom t-shirts are a great way to personalize your wardrobe, get the word out about your brand or product, share a favorite message, or simply show off an awesome artistic design. There are virtually countless ways to use custom t-shirts in your personal life or for your business or organization. We also provide bulk/wholesale services.
Texas Ink specializes in custom screen printed t-shirt design and production to help you bring your vision to life. It doesn't matter if you are an experienced designer or never have created a design for a t-shirt before, Texas Ink is here to help.
Massive Selection of Products
We pride ourselves on our massive selection of products/styles, brands, and colors to choose from. Our catalog includes well-known brands like Nike, Adidas, All Sport, Alternative, American Apparel, Anvil, Augusta, Sportswear, Badger, Bayside, Bella Canvas, Boxercraft, Brookson Bay, C2 Sport, Calvin Klein, Champion, Chef Designs, Code Five, Columbia, Comfort Colors, FeatherLite, Flexfit, Gildan, Hilton, IZOD, Liberty Bags, Next Level, Oakley, PRIM + PREUX, Puma, Rawlings, Red Kap, Richardson, Russell Athletic, Tommy Hilfiger, Van Heusen, Wrangler, Yupoong, Richardson, Pacific Headwear and much more! Products and styles include t-shirts, athletics, outerwear, wovens and dress shirts, polos and sports shirts, sweatshirts and sweatpants, accessories, and much more.
No matter what you're looking to create, we can help you bring it to life.
See the Entire Catalog Online
To see our wide array of products we offer check out our catalog, which can be viewed online. The catalog is a great way to see the many different products, styles and colors we carry. You can always call or send us an email to learn about our top selling products. We have a list of our most popular blanks used for 5k runs, fundraisers, polos, dress shirts, gyms and schools.